Driving Test Information
The United Kingdom driving test is a test which drivers must pass to obtain a driving licence.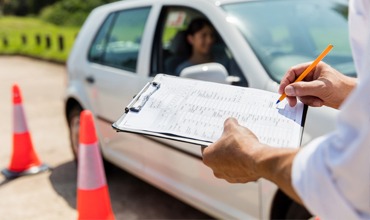 Different tests are available for users of different vehicles, from car drivers, to motorcyclists and HGV drivers.
The test is separated into three distinct parts: the theory test, hazard perception test and practical test.
It is necessary to pass all three parts, theory, hazard perception and practical, before a full driving licence is granted.
VERY IMPORTANT TEST BOOKING WARNING.
Some sites will make a charge for booking your test .
There is absolutely no need to pay a test booking fee.
Make sure you use the official DSA booking site. To ensure you are using the correct website check the top bar of hyour browser to ensure it is the .gov.uk site.
What Is The Theory Test?
The theory test consists of two parts;
1) 50 Multiple Choice Questions
2) Hazard Perception Test comprising 14 video clips, each clip lasting around a minute. You will find a total of 15 hazards.
You have to pass both multiple choice and hazard perception parts at the same test appointment to attain an overall pass.
Should you pass one part, but fail the other, you will need to book another appointment to take both elements of the test again.
The test is completed under exam conditions in a dedicated Theory Test centre entirely on a touch screen computer (you have the choice of utilizing a mouse should you prefer!). Headphones will have to be used throughout the entire test.
A voiceover may be requested where the questions and answers are automatically read out to help individuals with reading difficulties, or for whom English isn't their first language.
Who has to take a Theory Test?
If you're learner driver you have to take and pass your theory test before you book your practical test. If you currently have a driving licence you might not have to take another theory test in order to start driving a different vehicle...
UK Licence Holders - you have to take a theory test if you want a licence for a new group of vehicle, for example, for those who have a car licence and you also want a motorcycle licence you will have to take a theory test. If, however, you would like to upgrade within a vehicle category you will not normally have to take a theory test, for instance, for those who have a full automatic car licence and you also want a manual car licence you won't have to take a theory test. It's your responsibility to ensure you possess the correct licence for the vehicle you're driving
We get asked this question alot.
"Do I have to pass my theory test before I can start learning in to drive?"
The answer is NO, as soon as you get your provisional driving licence then you can start learning to drive. Thats with an approved driving instructor or with friends and family but make sure you are insured to drive their vehicle before doing so.