Driving Lessons Mold
We have been offering driving lessons in Mold for 20 years. And pride ourselves on giving the best service to the learner drivers of Mold.
Learning to drive in Mold
Our excellent first time pass rate has given us a superb reputation in the area and we are now teaching teenagers in Mold whose parents we have taught to drive!
Our system incorporates 20+ years of experience and all the latest coaching requirements for today's driving test. The prospect of learning to drive in Mold can be a daunting as there is no longer a driving test centre there so you have to travel to either Wrexham or Chester test centres.
Our driving instructors in Mold are fully experienced in instructing in both those areas. The advantage of not having a driving test centre in Mold is that to get to Wrexham or Chester our instructors are able to give you practice on more open faster moving roads and so broaden your learning. Rhyl driving test centre is also an option but just that slight bit further.
Your Driving Lessons in Mold
Your driving lessons in Mold will be started on somewhere like the Bromfield Industrial Estate as it offers good wide roads and little traffic. This helps you gain a good solid basis of car control skills in an area with little pressure from other road users.
As your skills develop your instructor will move you on to the likes of Bromfield Park and Bryn Hilyn Lane and into the town centre to encounter your first set of traffic lights. From there routes up  the A5119 towards Gwernymynydd and back down the Mold bypass will give you good open road experience in preparation for the likes of the A55 towards Connahs Quay and Deeside.
There are many carparks within Mold to practice the parking as now you can now be taken into public carpark's on the driving test and asked to forward or reverse park into bays.  There are also many quiet streets for the parallel parking exercise.. Overall Mold makes an ideal place to learn to drive.
You will never be put into a situation you are not ready for. And all our instructors are fully aware of the independent standard needed for today's driving test and will ensure you are at that standard before presenting you for the test. This will be attained through the recommended Coaching Methods approved by the DVSA.
Mold Driving Test Centre
Mold unfortunately no longer has a driving test centre. Therefore candidates have to travel to either Wrexham or Chester test centres. Many of our instructors are fully prepared to give their expert tuition in both these driving test centres and as stated earlier this need to travel to neighbouring test centres does have the added advantage of providing you with extra open road driving, which serves well with higher speed tuition.
If your based in Mold then early lessons can be taken there and then progress can be made over to Wrexham as progress towards driving test standard is made. The travel from Mold to Wrexham serves as an ideal drive taking in faster dual carriageways and lower speed limits through village centres. Giving you a good overall driving experience with adapting to the differing situations.
Driving Lessons in Mold
Our instructors that covers Buckley, Penyffordd and Mold area are Paul Johns and Nigel Richards.
Paul mainly covers this area and has been instructing with Nigel Richards Driving School after being trained by Nigel. He always has fantastic reviews from his students who enjoy his relaxed and fun way of instructing.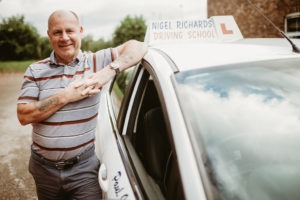 Paul is an avid golfer and is currently the county captain. He says being a driving instructor fits in well with his life and hobby! He has recently taught his daughter Kelly to drive so she is able to take her young son around a lot easier than on public transport. A major driving force that makes mothers take driving lessons.
All Paul's pupils comment how fun their lessons were when they have passed, which we consider to be a major factor in learning to drive quickly. This also results in a higher pass rate among his pupils.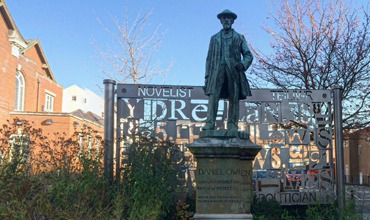 Every lesson is monitored and recorded

All instructors trained to our high standard

Fantastic local reputation

Choice of cars, male or female instructors

100s of positive Customer Reviews

Free online Theory Test training

Easy online payment system

Discount for lessons paid in bulk blocks

Lessons in Welsh or English
" All the Amazing Reviews was the reason I chose to learn to drive with Nigel Richards Driving School. My instructor Paul Johns made every lesson enjoyable and everything so simple. I would recommend them for enjoyable driving lessons and their high success rate"
Dan Townley,Mold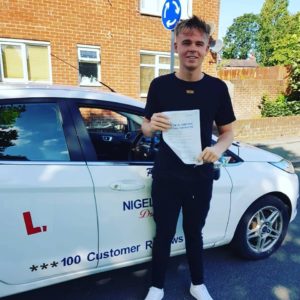 High Pass Rate, flexibility and friendly helpful instructors are the reasons I would recommend Nigel Richards Driving School to friends and family. I chose them because my Mum and Uncle passed their driving tests with them 20+ years ago. My driving instructor Paul Johns instructional techniques that made it easy to understand. I was made to feel comfortable and they were flexible around my work schedule"