Driving Lessons Mold
We have been offering driving lessons in Mold for a good number of years.
Learning to drive in Mold
Our excellent first time pass rate has given us a superb reputation in the area and we are now teaching teenagers in Mold whose parents we have taught to drive!
Our system incorporates 20+ years of experience and all the latest coaching requirements for today's driving test. The prospect of learning to drive in Mold can be a daunting as there is no longer a driving test centre there so you have to travel to either Wrexham or Chester test centres. Our instructors in Mold are fully experienced in instructing in both those areas. The advantage of not having a driving test centre in Mold is that to get to Wrexham or Chester our instructors are able to give you practice on more open faster moving roads and so broaden your learning
Your Driving Lessons in Mold
Taking your driving lessons in Mold will be started on somewhere like the Bromfield Industrial Estate as it offers good wide roads and little traffic. This helps you gain a good solid basis of car control skills in an area with little pressure from other road users.
As your skills develop your instructor will move you on to the likes of Bromfield Park and Bryn Hilyn Lane and into the town centre to encounter your first set of traffic lights. From there routes up  the A5119 towards Gwernymynydd and back down the Mold bypass will give you good open road experience in preparation for the likes of the A55 towards Connahs Quay and Deeside.
There are many carparks within Mold to practice the parking and quiet streets for the parallel parking exercise, the Love Lane one is a great example. Overall Mold makes an ideal place to learn to drive. You will never be put into a situation you are not ready for. And all our instructors are fully aware of the independent standard needed for todays driving test and will ensure you are at that standard before presenting you for the test.
Mold Driving Test Centre
Mold unfortunately no longer has a driving test centre. Therefore candidates have to travel to either Wrexham or Chester test centres. All our instructors are fully prepared to give their expert tuition in both these driving test centres and as stated earlier this need to travel to neighbouring test centres does have the added advantage of providing you with extra open road driving.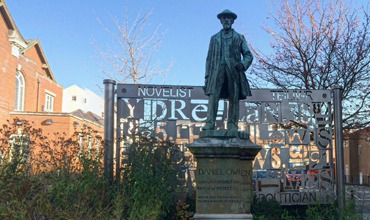 Every lesson is monitored and recorded

All instructors trained to our high standard

Fantastic local reputation

Choice of cars, male or female instructors

100s of positive Customer Reviews

Free online Theory Test training

Easy online payment system

Discount for lessons paid in bulk blocks

Lessons in Welsh or English