Driving In Lessons Wrexham
Nigel Richards Driving School have been delivering driving tuition in Wrexham since 1994.
Driving Lessons in Wrexham and surrounding villages
Nigel Richards Driving School have been delivering driving lessons in Wrexham since 1994. All our driving instructors are trained by Nigel Richards Driving Instructor Training, CRB checked and regularly monitored to maintain high standards of tuition.
All our Wrexham Driving Instructors are achieving a much higher pass rate than the national average due to their expert local knowledge and superb local reputation. Our glowing reputation built up over the years has recently resulted in us teaching teenagers whose both parents learnt to drive with us!
Female Driving Instructors Wrexham
We have two female driving instructors in Wrexham. Jenny Thompson and Jacqui Williams. So if your preference is to have driving lessons with a female instructor just contact us to enquire of their availability.
Free Theory Test Training Online
We have Free Driving Theory Test Training available for all our pupils through our Theory Test Pro application. It is constantly updated with any new changes and offer the Hazard Perception training too.
Your Driving Lessons in Wrexham
Driving Lessons in Wrexham offer some excellent areas for complete beginners to gain their initial car control skills. Such as the huge Wrexham Industrial Estate as well as Llay and Rhosddu Industrial areas.
Once initial skills are gained pupils are moved onto nursery routes such as Sontley/Squire Yorke estates and Garden Village on the outskirts of Wrexham.
These areas offer greater challenges to the learner driver but are wonderful stepping stones from the quiet industrial areas before taking on the busier Wrexham town centre and bigger roundabouts such as Gresford, B+Q and Rhostyllen.
The surrounding villages are where most of the manoeuvres such as hill starts, angled starts and the parking exercises are carried out. We are lucky that we have plenty of hills in theses villages!
With recent changes to the driving test the forward and reverse bay parking exercises are often carried out in public car parks such as B+Q or Morrisons, Ruthin Road, Wrexham. The rural routes include Bersham, Ffrwd and the Moss Valley each presenting their own unique challenges, of which our instructors area aware of due to their expert local knowledge.
The New Driving Test
Many of the new style driving tests today are carried out under directions from a Sat Nav, which is provided by the examiner. We use the exact model they provide so as to enable full familiarity on the day of the driving test.
The roads of Wrexham offer a real challenge to any driver, therefore when passing your driving test here you can pride yourself in knowing you have reached a very good standard that in our opinion will put you in good stead to drive anywhere in the country.
Wrexham Driving Test Centre.
The Driving Test centre in Wrexham is located at Birchall House, 62 Croesnewydd Road, Wrexham LL13 7YX. The test centre being close to the A483 dual carriageway results in many of the test routes starting in that direction. The routes extend to the villages of Gwersyllt, Gresford, Ruabon, Rhos and Brymbo, taking in a large variety of road conditions from narrow rural roads to dual carriageway and multilane roundabouts.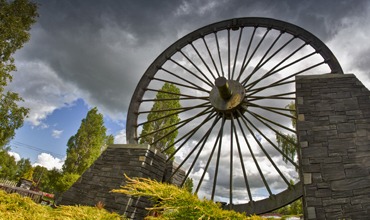 Every lesson is monitored and recorded

All instructors trained to our high standard

Fantastic local reputation

Choice of cars, male or female instructors

100s of positive Customer Reviews

Free online Theory Test training

Easy online payment system

Discount for lessons paid in bulk blocks

Lessons in Welsh or English
Our Driving Instructors in Wrexham:
Ben Taylor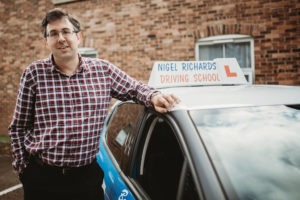 Ben Taylor joined our driving school after requesting to be trained as a driving instructor. He currently lives in Overton with his wife and young daughter.
He has recently obtained a new Citroen C3 in brilliant blue colour and is having great success and feedback on from his pupils.
Neil Rowlands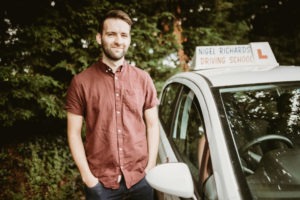 Neil Rowlands is our fluent Welsh speaking driving instructor, He hails from Pwllheli, West Wales and moved over to Wrexham several years ago and joined our team.
He is an avid Wales football team supporter and attends many matches over the world. He now lives in Penycae, and is getting married this Summer!
Paul Johns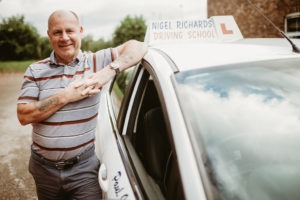 After being made redundant Paul decided to pursue his love of driving and become a driving instructor.
He gets great results with nervous pupils who have anxiety around driving. Also getting super results with pupils who want to learn in a shorter time frame.
He is a golfer which is another reason being a driving instructor fits in really well with his lifestyle! He is captain of the County team this year!
Jenny Thompson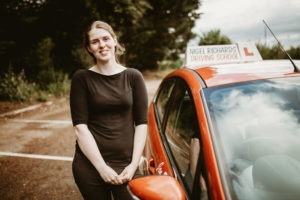 Jenny is a former student of Nigel Richards Driving School having learnt to drive with Nigel when she turned 17. She was the fourth member of the Thompson family to learn with the driving school having previously taught her three older brothers.
After trying numerous career options Jenny finally decided to try driving instruction. She returned to the driving school to train after Nigel had a call off her Dad. And the rest is history as we are now assured Jenny has found her ideal career! So say all over her pupils too!!
Nick Roberts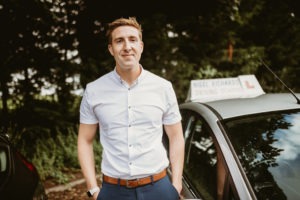 Nick Roberts like Jenny Thompson in an ex pupil of Nigel Richards Driving School. Having taught all Nicks siblings to drive Nick was the last member of the Roberts family in Tanyfron to learn.
He pursued a career in the RAF fire service which included active service in various countries, before returning to Wrexham to train as a driving instructor.
When hes not getting all his pupils up to the driving test standard he plays in his band called JKLMNO, attends Cross Fit and has recently got married to Stacey!!
His great attitude with younger drivers gives  a superb 1st time pass rate them.
Jon Foulkes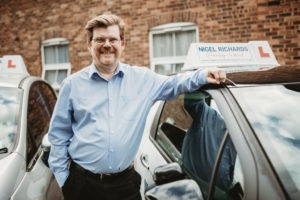 Jon trained with Nigel Richards Driving School to fulfill an ambition of becoming a driving instructor.
His son was having driving lessons with Nigel and made great progress in his earlier lessons causing Nigel to enquire if he was getting practice in between lessons.
This led to Jon joining the instructor training programme and is now a key member of our team giving driving lessons in Wrexham and got his son through the driving test!!
Fantastic local reputation

Female driving instructors in Wrexham

Choice of driving school cars, Fiesta, Corsa, DS3, Yaris, Auris

100s of positive Customer Reviews

Free online Theory Test training

Driving Lessons in Welsh or English

Easy online payment system

Discount for lessons paid in bulk blocks

Flexible lesson pick up and drop off