Driving Lessons Oswestry
We have been offering driving lessons in Oswestry for many years now and pride ourselves on the excellent pass rates of our pupils from the Maesbury Road Test centre.
Learning to drive in Oswestry
Our instructors know the area well and are all trained by Nigel Richards Driving School Instructor Training programme to implement our system that has been perfected over the past 20+ years. We have also implemented the latest "Coaching" techniques suggested by the DVSA.
With our vast experience we are the first choice in Oswestry to get you off the public transport, out of the cold bus stops and give you the independence you deserve! All our instructors are CRB inspected and trained to the a high standard so you know you in safe hands on the roads of Oswestry.
If you already have some driving experience then we can often start with an assessment on one of the country roads before edging you into the busier areas if needed. The faster A5 road very often offers some overtaking opportunities especially in the Summer months with the slower moving agricultural vehicles being more present in this popular farming area.
Your Driving Lessons in Oswestry
Learning to drive in Oswestry is in general a pleasant experience due to the small test route areas covered and the moderate traffic levels. There are some nice easy Industrial areas such as the Maesbury Road and Mile Oak Industrial Estate areas for you to learn the basic controls. Moving up to the nursery routes around Morda, College Road areas is an easy step from the industrial areas. As your confidence grows you will be moved up to the busier A5 roundabouts and out to the villages in the area. These can be as far out as Gobowen and Whittington, taking in the sweeping country roads to get there and back where a good demonstration of speed and control should be displayed.
The reversing exercises of reverse and forward bay parking can be carried out on the driving test centre but you may also be asked to perform them in a public or supermarket carpark such as Morrisons or Sainsburys near Leg Street.
Oswestry Driving Test Centre
The driving test centre in Oswestry is located on the Maesbury Road Industrial area. The address is Mile Oak Industrial Estate, Maesbury Road, Oswestry, Shropshire, SY10 8GA.
It is accessed through the entrance to Oswestry Waste Paper company and it tucked away in the corner to the right. Due to the large number of heavy goods vehicles using the entrance extreme caution should be taken when entering and leaving the test centre.
The driving tests usually consist of around 45 minutes driving and take in all the different types of roads this rural test centre offers.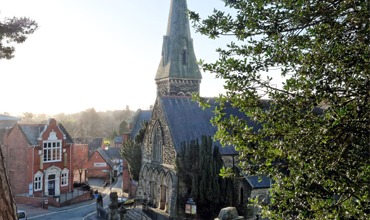 Every lesson is monitored and recorded

All instructors trained to our high standard

Fantastic local reputation

Choice of cars, male or female instructors

100s of positive Customer Reviews

Free online Theory Test training

Easy online payment system

Discount for lessons paid in bulk blocks

Lessons in Welsh or English