Wrexham driving instructors and driving examiners meeting
Wrexham Driving Instructors and Examiners meeting 11th June 2019
Having recently attended a meeting with the Supervising Driving Test examiner for Wrexham, I thought it would be relevant to let you as learner drivers know what was discussed.
Driving Test Pass Rates in Wrexham
The presentation started with a harsh reminder that the current pass rate in Wrexham driving test centre was a lowley 38%! Which is below the national average of 46%.
Factors contributing to this in Wrexham were stated as:
Pupils being presented for test at below the required standard
Possibly the new more rural test routes being introduced.
Most common driving errors on driving tests in Wrexham.
Next we moved on to learning of the most common faults marked by the driving examiners whilst testing on the Wrexham routes. These were:
Pulling over on the right
With this being one of the most recently introduced exercises it was inevitable there would be some errors, despite it being a relatively simple task compared to others.
The confusion seems to mainly be when the examiner requests the pupils to pull over on the right. This seems to lead to regular hesitation before moving over to the right hand side, which often causes the pupil to pass the most convenient place. Problems then occur, as for example they may finish up closer to a bend than anticipated making the risk factor when moving off much higher.
We at Nigel Richards Driving School are now closely monitoring how our pupils react to our instructions when being asked to move over to the right. If you are out practising with family of friends then we suggest you try this exercise to become more comfortable as so enhance your chances of passing the driving test in Wrexham.
Progress on Wrexham rural driving test roads
With all new driving test routes now favouring rural roads there appears to be a reluctance among candidates to make sufficient progress when they are facing with an open and clear road situation.
Every opportunity should be used to drive at a speed appropriate the road conditions ahead.
Driving at slower than average speed can lead to vehicles behind taking unnecessary risks in trying to get passed. Most rural roads are sixty miles per hour maximum speed limit and most pupils comments whilst driving on these roads are how ridiculous it is to be allowed to drive at that speed on these roads.
Whilst this maybe the case on the single track rural lanes the wider roads encountered do allow us to travel at the speed limit and therefore if safe to do so then it should be attained.
We find that teaching our pupils to prepare for bends well in advance using sight lines, straight line braking and correct gear anticipation we have few few fails within these areas.
We can off you tips when out with parents to use roads such as from Wrexham Industrial Estate to Broxton roundabout, Bangor On Dee to Whitchurch and Ruabon to Overton or Bangor on Dee as suitable areas to improve progress on open roads.
The driving test routes tend to use the Ffrith road, Borras Head and Rhos/Legacy arese so also try taking these into your private practice areas.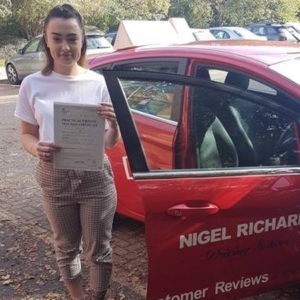 Move off and junction observations
As always move off and emerging out of side roads onto main roads is one of the most common failure faults on many driving tests.
It is important that effective all round observations are mode before every move off. This is to include all mirrors and blind-spots before releasing the handbrake. Pupils are asked to pull over many time during the driving test and should therefore do the same on their driving lessons.
We think that some pupils are taught to move off correctly on their early lessons but as they near the driving test standard and more complex areas of driving are covered the simple initial move offs become forgotten. Therefore, there is a need to go back to some basics in the last few driving lessons in Wrexham before taking the driving test, This will refresh the observations and make every check more relevant now the pupil can control the car better than on their early driving lessons.
Ipads used on Driving Tests
Finally we heard the news that Ipads will be introduced on driving test from December 2019. Instead of the examiners marking a paper sheet they will mark the test results on an ipad and the result sheet will be emailed to the candidates email address.
We were hoping to have seen the actual Ipad but unfortunately they were not available as they were still in the testing phase.
We will keep you informed of any progress we hear about in the future so that you are fully aware of when these will be introduced.
We hope you enjoy your driving lessons in Wrexham and if you choose to learn with Nigel Richards Driving School.