Best ways to Pass the Driving Test in Wrexham
Best ways to take driving lesson and pass driving test in Wrexham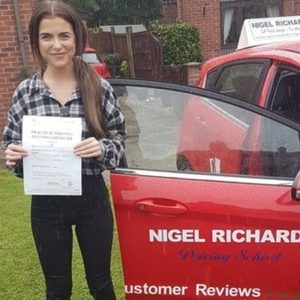 Taking your driving test in one one of the most stress full situations you are likely to incur in your life. Therefore it is vitally important that you know the best ways to prepare for this momentous occasion that can literally change your life!
Here are our tips to get you performing the best on the day:
Choose a good reputable Driving School in Wrexham
Some people choose the cheapest driving lessons in Wrexham they can find, these are often offered by driving schools from out of the area.
But lets take a look at what they could be getting.
A driving instructor who doesn't know the Wrexham area.
An instructor who is not seen by the driving examiners in Wrexham on a regular basis
Someone who is unfamiliar with the Wrexham Driving test routes
And someone who may not be very well trained
If the driving instructor is unfamiliar with the Wrexham area then it is likely that a large percentage of the driving lesson could be spent finding their way around and not on teaching skills.
There is nothing worse than trying to instruct someone when you do not have a clue where you are going!
When a good local driving school is regularly presenting good test ready pupils at the driving test centre then they gain a good working relationship with the examiners. An instructor who is not seen regularly has no reputation with the examiners.
Choosing a good local driving school in Wrexham like Nigel Richards Driving School ensures that you are being represented by an instructor who has a great reputation, is fully familiar with the area and who has had great training by a school that has been established for 25 years.
Ask the Driving Instructor plenty of questions
It is always easier to instruct someone who asks a lot of questions, as this enables the driving instructor to know exactly what the person is thinking and the ways they are seeing things.
This allows the instructor to use the latest driver coaching methods taught by Nigel Richards Driving School. This will ensure the pupil arrives at the test centre fully prepared for any eventuality.
If questions are not asked then it is difficult for the instructor to establish the best ways to present the driving lesson in a way the pupil is best suited to learning from.
Look at other drivers
When you are a passenger watch the driver of the vehicle.
Not only watch what pedals they are using and gears they are selecting but take a look at the road ahead and try to spot what hazards they are approaching.
Watch what they do and how soon they react to the hazards they are seeing. Also take note of lanes they use on the bigger roundabouts. These observations can be fed back to your  driving instructor for advice on if they are being carried out correctly.
Practice, Practice, Practice!
The driving test routes in Wrexham offer a huge variety of road conditions and off many challenges to learner drivers.
Therefore as much practice as possible is needed to ensure any situation can be handled on the day of the test. Especially on the bigger roundabouts like Gresford, Mold Road and Tesco. Recent changes to the driving test mean that many more country areas such as Bersham, Borras, Rhos and the Moss Valley are now included on the routes. So these should be included in the practice too.
Remain calm on the day!
Here at Nigel Richards Driving School we are experts at keeping our driving test candidates calm on the test day. We have studied and practice methods to help people perform under pressure by applying techniques used by Steve Peters in the Chimp Paradox book used by many Olympic athletes.
Since adapting theses methods to use with our pupils we have seen or pass rates remain high.
We hope these tips help and will be adding some more at a later date.
Nigel Richards Driving School, Wrexham